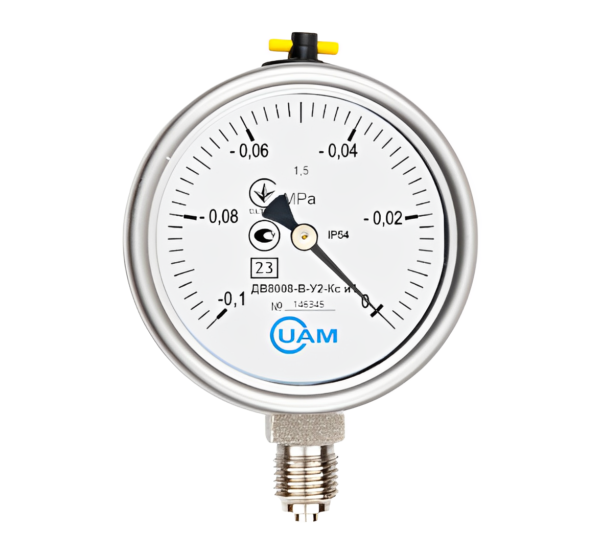 Vacuum gauge DV 8008-V-U2-Ks i1
0.00 ₴ – 1,171.00 ₴
Vibration-resistant vacuum gauge DV 8008-V-U2-Ks i1 is designed to measure vacuum pressure of hydrocarbon gas, water-gas-oil emulsion with hydrogen sulphide and carbon dioxide content up to 25 % by volume each, inorganic salts and paraffins up to 10 % by weight.
Vibration-resistant vacuum gauge DV8008-V-U2-Ks i1 in the standard version is made of the following materials: body – stainless steel, glass – organic, mechanism and connection – stainless steel.
DV8008-V-U2-Ks i1 is used in conditions of increased vibration, the function of vibration resistance is achieved by filling the manovacuummeter with vibration-absorbing liquid – Glycerin.
Description
Case material: stainless steel
Measuring element material: stainless steel
Glass: organic (safe multilayer glass)
Diameter size, mm

Accuracy class
Measuring range, MPa
Degree of protection (IP)
Thread

Connection

DV8008-V-U2 Ks i1

40*

50*

63

1,5

1,0*

From -0,1 tо 0 MPа
IP54

IP65*

М12х1,5

G1/4

Bottom,

Back
 * Special version
On request, units of measurement can be ordered in kgs/cm²; bar, atm
The gauges can operate at temperature -50°C to + 60°C
Maximum temperature of the measuring environment up to 200°C
Additional information
| | |
| --- | --- |
| Connection | Back (Axial), Bottom (Radial) |
| Diameter, mm | 63 |
| Case material | Stainless steel |
| Measuring range, MPa | from -0.1 to 0 |
| Thread | G1/2, M20x1,5 |
| Degree of protection | IP54 |