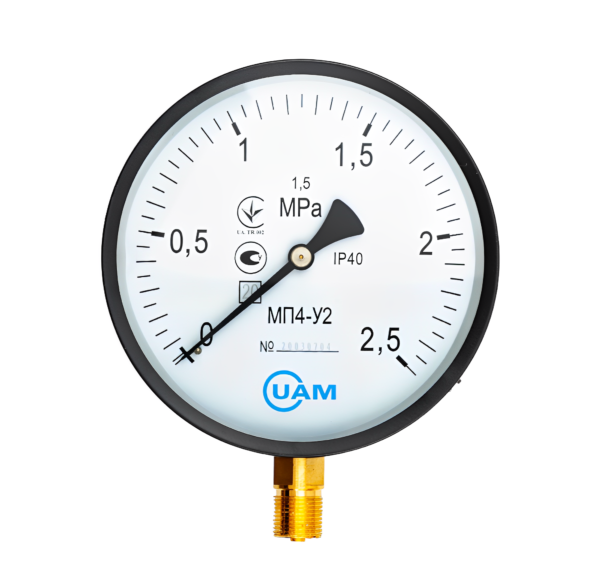 Pressure gauge UAM MP4-U2
0.00 ₴ – 807.00 ₴
Pressure gauge MP4-U2 is designed to measure overpressure of
non-crystallising liquids, steam, gas, oxygen, acetylene, refrigerants.
The measured environment must be non-aggressive towards copper alloys.
For aggressive environments, a series of stainless steel devices is used – groups: ammonia, corrosion-resistant.
The MP4-U2 pressure gauge is made of the following materials as standard: steel body, organic glass, brass alloy mechanism and fitting.
The sensitive element of the device is a Bourdon tube. It responds to changes in pressure.
Description
Case material: steel
Measuring element material: copper alloy
Glass: organic
Diameter size, mm
Accuracy class
Measuring range
Degree of protection (IP)
Thread

Connection

MP4-U2

160
1,5

1,0*

From 0 to  0,06; 0,1; 0,16; 0,25; 0,4; 0,6; 1,0; 1,6; 2,5; 4; 6; 10; 16; 25; 40; 60; 100*; 160* MPa
ІР40

IP  53*

IP 54*

М20х1,5

G1/2

Bottom,

Back
 * Special version
On request, units of measurement can be ordered in kgs/cm²; bar, atm
Pressure gauges can be supplied with a flange
The gauges can operate at temperature -50°C to + 60°C
.
Additional information
| | |
| --- | --- |
| Connection | Back (Axial), Bottom (Radial) |
| Diameter, mm | 160 |
| Case material | Steel |
| Measuring range, MPa | from 0 to 0.06, from 0 to 0.1, from 0 to 0.16, from 0 to 0.25, from 0 to 0.4, from 0 to 0.6, from 0 to 1.0, from 0 to 1.6, from 0 to 10, from 0 to 100, from 0 to 16, from 0 to 160, from 0 to 2.5, from 0 to 25, from 0 to 4, from 0 to 40, from 0 to 6, from 0 to 60 |
| Thread | G1/2, M20x1,5 |
| Degree of protection | IP40, IP53 |