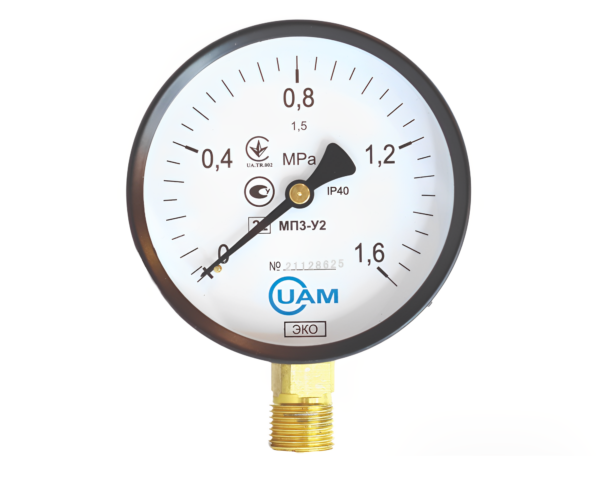 Pressure gauge UAM MP3-U2 (ECO)
162.00 ₴
Pressure gauges MP3-U2 (ECO) are designed to measure the overpressure of gas and water and are used in heat supply systems, water supply, heating devices, steam and water boilers. The measured medium must be non-aggressive towards copper alloys.
Pressure gauges of this model are recommended for the housing and utilities sector.
Description
Case material: steel
Measuring element material: copper alloy
Glass: organic
The gauges can operate at temperature -50°C to + 60°C
Diameter size, mm
Accuracy class
Measuring range
Degree of protection (IP)
Thread

Connection

MP3-U2 Eco

100
1,5
0,4; 0,6; 1,0; 1,6; 2,5; 4,0.
ІР40
М20х1,5

G1/2

Bottom
This model of pressure gauge is manufactured with a lightweight construction with a Bourdon tube and is adjusted/calibrated by means of a "squeezing" rod. Economy version pressure gauges are available with a limited pressure range (0.4; 0.6; 1.0; 1.6; 2.5; 4.0 MPa) and a single accuracy class (1.5), which allows you to achieve the best price-quality ratio.
An example of an order: Pressure gauge MP3-U2 (0.6, MPa, a.c. 1.5, G1/2, IP40, Bottom, E)
Additional information
| | |
| --- | --- |
| Connection | Bottom (Radial) |
| Diameter, mm | 100 |
| Case material | Steel |
| Thread | G1/2, M20x1,5 |
| Degree of protection | IP40 |
| Measuring range, MPa | from 0 to 0.4, from 0 to 0.6, from 0 to 1.0, from 0 to 1.6, from 0 to 2.5, from 0 to 4 |