Operating instructions for pressure gauges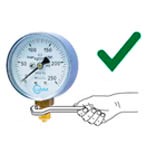 Installation and disassembly must only be carried out when the pipeline is depressurised. Mounting must be carried out using a spanner on the fitting.
The torque must not exceed 20 Nm.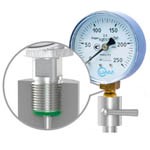 Use O-rings (PTFE or copper) to seal the connection between the pressure gauge and the pressure source.
The use of winding materials for this purpose is not permitted!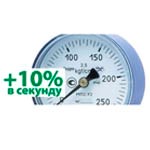 The pressure is supplied through pipelines with an internal diameter of at least 3 mm.
The pressure must be applied smoothly and evenly. In the process of changing the pressure, its speed should not exceed 10% of the scale per second.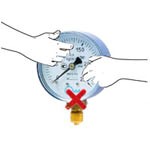 Do not mount or dismount the appliance by the housing. Do not apply force to the case!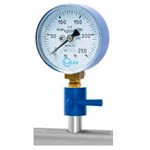 The pressure gauge must be installed through a shut-off valve or valve
The final installation of the device must comply with the standards required for its functioning: the housing must be positioned vertically (permissible deviation not exceeding ±5° in any direction) or in accordance with the operating position mark on the dial.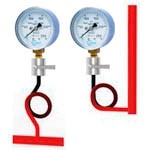 When measuring the pressure of media with a temperature higher than the maximum permissible temperature, a cooler should be installed upstream of the instrument. In this case, the error of the device readings under the influence of temperature will be reduced as much as possible.
THE PRESSURE GAUGE SHALL NOT BE OPERATED IF:
the device does not work;
there is damage to the glass;
the movement of the arrow is abrupt or the arrow does not return to its original position (zero mark) after the measurement;
the readings exceed the permissible rate of error.
If there is no pressure, the arrow normally returns to the zero mark. Deviations from "0" are permissible according to the limit value of the accuracy class of the device. If the arrow deviates beyond this range, the device is defective.