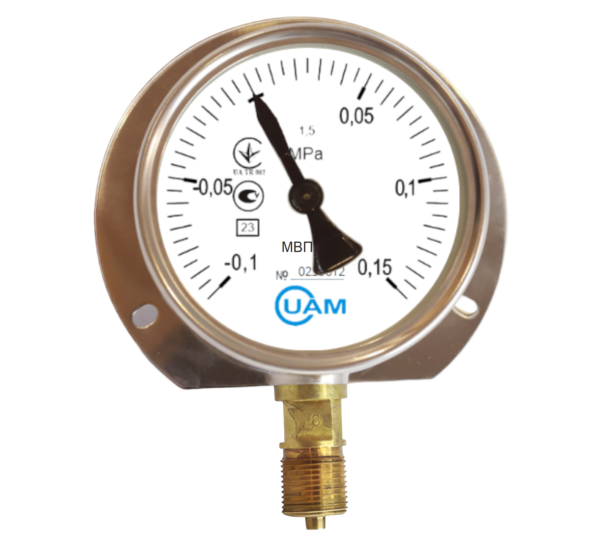 Manovacuum gauge UAM MVP-U2
1,300.00 ₴
This type of pressure gauge is designed to measure the overpressure and vacuum pressure of environments that are not aggressive to copper alloys in railway rolling stock systems and installations. For example: water, fuel, oil, air, etc. They are used in brake and power systems, rolling stock installations of railways, subways and trams, and to measure the pressure of refrigerants in refrigeration machines in refrigerated wagons.
Description
Case material: stainless steel.
Measuring element material: copper alloy, bronze, brass.
Glass: organic.
Diameter size, mm

Accuracy class
Measuring range, MPa
Degree of protection (IP)
Thread

Connection

MVP-U2

100
1,5

1,0*

From -0,1 tо 0,06; 0,15; 0,3; 0,9; 1,5; 2,4 MPа
IP54
М20х1,5

Bottom,
back*
  * Special version
On request, units of measurement can be ordered in kgs/cm²; bar, KPa
The gauges can operate at temperature -50°C to + 60°C
Additional information
| | |
| --- | --- |
| Connection | Bottom (Radial) |
| Diameter, mm | 100 |
| Case material | Stainless steel |
| Degree of protection | IP54 |
| Measuring range, MPa | from -0.1 to 0.06, from -0.1 to 0.15, from -0.1 to 0.3, from -0.1 to 0.9, from -0.1 to 1.5, from -0.1 to 2.4 |