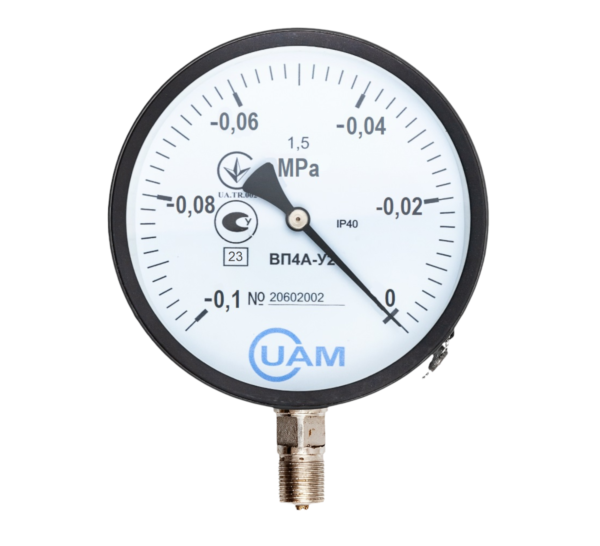 Vacuum gauge UAM VP4А-У2
1,523.00 ₴
Pressure gauge VP4А-U2 is designed to measure the overpressure of liquid, gaseous and aqueous ammonia solutions.
Pressure gauge VP4А-U2 is designed for aggressive environments. In this series of instruments, the mechanisms that come into contact with the measured medium are made of stainless steel.
Pressure gauge VP4A-U2 is made of the following materials as standard: steel body, technical glass, mechanism and fitting – stainless steel.
The sensitive element of the device is a Bourdon tube. It responds to changes in pressure.
Pressure gauge VP4А-U2 is a complete analogue of pressure gauges of the following manufacturers:
ВП4А-УФ  "Фізтех"
ВП4А-УУ2 "Манотом"
Description
Case material: Steel
Measuring element material: Stainless steel
Glass: Technical
Diameter size, mm
Accuracy class
Measuring range
Degree of protection (IP)
Thread

Connection

VP4A-U2

160
1,5

1,0*

From -0,1 tо 0 MPa
ІР40

IP  53*

IP 54*

М20х1,5

G1/2

Bottom,

Back
 * Special version
On request, units of measurement can be ordered in kgs/cm²; bar, atm
The gauges can operate at temperature -50°C to + 60°C
Maximum temperature of the measuring environment up to 150°C
Additional information
| | |
| --- | --- |
| Connection | Back (Axial), Bottom (Radial) |
| Diameter, mm | 160 |
| Case material | Steel |
| Thread | G1/2, M20x1,5 |
| Degree of protection | IP40, IP53, IP54 |
| Measuring range, MPa | from -0.1 to 0 |